Munkhhairkhan Mountain

This trek takes place in the far western part of the country in the remote, pristine Altai Mountains. Munkhhairkhan is the second highest mountain in Mongolia at an elevation of 4362m. The peak is known locally as Tavan Khumst. (Tavan Khumst is Mongolian words meaning Snow leopard nails. Tavan means five, Khumst means nails)
Munkhhairkhan Mountain is a very unique and diverse area, a virtual biological cross-roads because a large variety of plant and animal species converge there from Kazakhstan-Turan, East Asia, Siberian taiga (forest) and Central Asian desert. The mountain is home to rare animals such as snow leopard, red deer, wild sheep, ibex, and snow peacock, as well as rare plants like tulip, globe flower, largest flower in Mongolia (Latin: Saussurea involucrata or Snow Lotus, Mongolian: Vansemberuu) and tasty Altai onion. There are also 98 species of trees and shrubs and 592 species of herbaceous plants growing here, which provide habitat for the many kinds of amphibians and insects that inhabit the area. Because of the large combination of environments that exist at Munkhhairkhan the mountain was granted protection status in 2006 as a Natural Resource Area.
Munkhhairkhan is the largest glaciated area in the Southern Altai Mountains. There are 45 glacial lakes scattered around the mountain, and the glaciers and permanent snow-capped mountains are the source of many rivers like the Turgen, Dund Tsenkher, Bodonch and Uench Rivers, with their beautiful and deep, rocky canyons. These rivers create many waterfalls and rapids including the 27-meter high Khukh Nuur waterfall. Munkhhairkhan is truly a place filled with incredible natural wonders!
During this trip we will also visit local Kazakh, Uriankhai and Zakhchin families, representatives of three minority ethnic groups in Mongolia. During these visits we will observe and learn about the culture, traditions and customs of these nomadic tribes. We will also explore interesting archaeological sites such as Khoid Tsenkher Cave, the site of the oldest rock paintings in Central Asia.
Explore Altai is committed to practicing sustainable ecotourism as a means to conserve traditional cultures and values, while generating economic opportunities for local peoples. All of our trips are conducted to the highest standards of environmental and cultural sensitivity.

Trip Seasons: June, July and August, 2012




Day 1: Welcome Day Ulaanbaatar
Arrive in Ulaanbaatar, the capital city of Mongolia.
Refresh in the hotel, and attend to practical matters such as money changing, etc. to prepare for our journey west.
Day 2: Fly to Khovd and drive to Ulaan Davaa. Visit Kazakh nomads
After a three-hour flight from Ulaan Baatar to Khovd in western Mongolia, we will drive cross-country in 6 hours to the Ulaan Davaa River. There we will have an opportunity to visit a Kazakh family and study their customs and traditions, including Kazakh national music and dance. Overnight in tents near the family. LD
Day 3: Drive to Seruun (Cool) Lake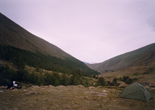 Drive to Seruun Lake. Local families nearby may be visited to observe the nomadic lifestyle; herding goats, making felt, see kitchen ger, try local food. We will overnight in tents near the lake. BLD
Day 4: Begin Trek to Gurt
Travel to Gurt (about 24kms to the south of Seruun lake). Gurt (Bridge) is one of the most remote and beautiful places in Mongolia (altitude 2300m). Stay overnight in camping tents. BLD
Day 5-6: Trekking & Natural Heaven
Today s trek takes you to Gurt River confluence, about 2.5 hours and 8 kms on foot. After lunch you will continue trekking about 1.5 - 2 hours (7 kms) through lush green pasturelands surrounded by majestic mountains.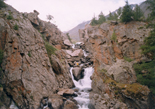 We stay this night birds singing nearby river. The following day we will trek back to Uriankhai families, where you will visit a nomad family and sample traditional dairy products made by these livestock herders. The Uriankhai way of life is very similar to the Mongolian nomadic peoples to the East, although they speak slightly different dialects of the same language. Foreign guests are a rare treat for them and they will welcome you warmly. In the evening you will be involved in the preparation of dinner and learn how to make Mongolian dishes and enjoy the nomadic lifestyle. Overnight in tents nearby the Gurt River (approx. altitude 2600m). BLD
Day 7: Trekking to Tsunkhel Lake and Bird watching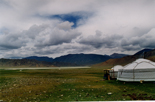 Today we will trek through a mountain valley and alongside the Turgen River (about 4-5 hours, 18-20 kms) to Tsunkhel Lake. Once there we will pitch our tents in a spot with stunning views of the lake. This fresh water lake covers four square kilometers and is situated at 2,406 meters above sea level. In the evening optional hiking or horse-riding is offered. Also, A visit will be made to a local Uriankhai nomad family. Stay overnight in tents. BLD
Day 8: Free day and mini Naadam
Mini Naadam! This is a cultural event arranged especially for our guests. Today you will witness the three traditional sports of Mongolia. Expert local nomads will demonstrate wrestling matches, archery competition, and horse racing. This day will be a highlight of your Mongolian experience! In the evening we will visit a nomad family to enjoy a folk concert and welcome dinner. Stay overnight in tents. BLD
Day 9: Trekking to Bayannuur Lake
Back to trekking! Today we will hike to the scenic confluence of the Turgen and Artsat Rivers (3-3.5 hours, 10-12 kms). Later we will travel by car to Bayannuur Lake (20 kms). On the way, you will see beautifully colored mountains, ancient nomad burial sites, and also manstones (800 year old Balbals from the Turkic Empire). Afterward, visit a Zakhchin family for an opportunity to learn about Zakhchin customs and traditions and to enjoy Zakhchin national music and dance. Overnight in tents near the family. BLD (approx. altitude 2900m)
Day 10: Trekking to Buurug Lake
Today we will cross the Buurug Nuuriin Khutul pass, then trek for 4-5 hours (18-20 kms) through gorgeous hills and mountain valleys. We will meet our vehicles in the evening and stay overnight in tents. BLD (app. altitude 2670m)
Day 11: Trekking to Khuk (Blue) Lake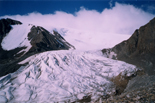 Trek to Khukh Nuur (Blue lake), near the foothills of Holy Yamaat Mountain. Lake Khukh is famous for its very clean water, and is a great place to relax or do more exploring On the way we will visit a nomad family to experience more legendary hospitality and unique culture. Stay overnight in tents. BLD (approx. altitude 2800m)
Day 12: Rest with Uriankhai Family
Today is a real treat. This area is rich in Bronze Age (2000 year old!) burial sites marked by tall stones with deer engravings, and more recent burials from the the 6th century engraved with human images. You will also visit local Uriankhai families and watch their daily tasks, learning some differences between Rural and Urban cultures and lifestyles. In the evening, you will enjoy a real Mongolian feast called Khorkhog prepared for honored guests! Stay overnight in tents. BLD (approx. altitude 2800m)
Day 13: Drive to Khoid Tsenkher Cave (Northern Cave of Blue)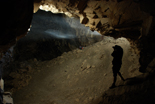 Today we get back in the vehicles and travel 110 kms to the world famous cave called Khoid Tsenkher. The cave, home of Stone Age people living about 20-15,000 years ago, contains elaborate rock engravings. The cave is 20 m deep and located on the banks of Northern Tsenkher River. Also in the area are burial sites from the Hunnu Empire (300 B.C. – 200 A.D). Stay overnight in tents near the cave. BLD (approx. altitude 1710m).
Day 14: Drive back to Khovd
Today we travel by vehicle 80 kms back to Khovd town. On the way we will see birds at Khar-Us Lake. Khar Us Lake is one the biggest lakes in Mongolia and rich in birdlife, including seldom seen Central-Asian migratory waterfowl. In Khovd we will visit the local museum, shops, and Bazaar (market) for some souvenir buying opportunities. We will stay that night in a Ger camp located at the banks of the Buyant River. BLD (approx. altitude 1710m)
Day 15: Flight back to Ulaanbaatar
We will fly back to Ulaanbaatar in the afternoon and transfer to the hotel, marking the end of our wonderful adventure together. BL
Note:
B-Breakfast, L-Lunch, D-Dinner
Explore Altai will be happy to arrange a local Ulaan Baatar guide upon request
"Explore Great Altai" Tours and Expeditions
---
Services included in the cost:

All activities described in the itinerary, twin/double basis hotel accommodation (2 nights) in Ulaanbaatar (single accommodation for a surcharge)
Ger camp stay (1 night in Khovd) and tent stay (12 nights) in countryside
English speaking guide service, local mountain guide and field cook, all camping equipment (including sleeping pad, but not sleeping bag),
Entrance fee to Protected Area and sightseeing fees, Mini Naadam fee
All transportation by minibus in the city and by 4WD Russian minivan in the countryside, meals of breakfast, lunch /picnic during the trekking in countryside and dinner as mentioned per day itinerary
Round trip domestic flight (UB-Khovd-UB) with transfers
Services not included in the cost:

International air transportation to and from Mongolia
Travel insurance
Mineral (bottled) water and alcoholic drinks
Meals in Ulaan Baatar
Sleeping bag
Tips and gratuities
Laundry and items of a personal nature

Service Voucher: This Itinerary, with Services Included, serves as your Service Voucher. All services mentioned herein will be provided as stated.